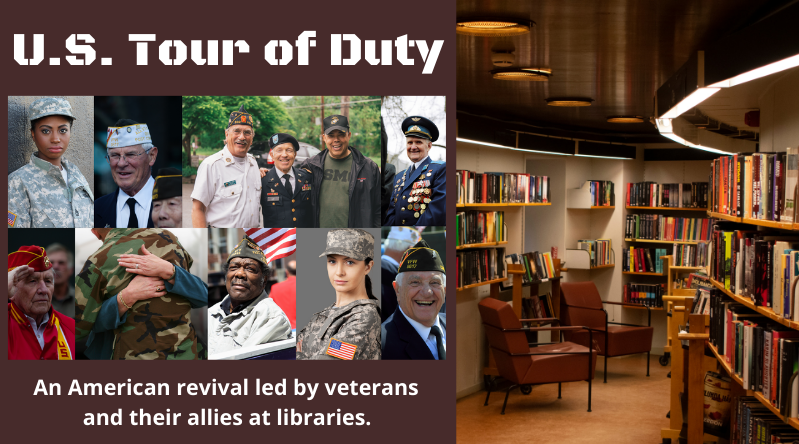 U.S. Tour of Duty is a campaign aimed at fostering relationships between veterans and their fellow Americans by utilizing libraries as a nerve center. The nucleus of the effort is a podcast (also called U.S. Tour of Duty) designed to facilitate distinct yet overlapping objectives: 1) raise awareness of the Veterans Resource Center in the Whittier Public Library (our flagship location) and other libraries, 2) provide online advice and referrals for veterans who are unable to visit a library in person, 3) expand the perception of libraries by highlighting all of the onsite and online services, and by touting libraries as an ideal location for research, meetings, workshops and creativity, 4) attract people from all walks of life (in addition to traditional service providers) who can offer veterans guidance and opportunities, and 5) establish a veteran-centric media platform.

The U.S. Tour of Duty ethos is based on the belief that good things inevitably happen when veterans and public-spirited nonveterans join forces. Although many veterans need and deserve assistance due to debilitating effects of military service, they're often reluctant to be seen as needing help. Moreover, most veterans are eager to contribute to society and more inclined to provide help than receive it. Because supporter and recipient of support are such interchangeable roles when it comes to veterans interacting with the rest of the population, U.S. Tour of Duty espouses flexibility and mutuality every step of the way.

The podcast will launch in early 2022. We'll produce 60 minutes of content monthly, with weekly 90-minute Zoom meetings devoted to instruction and developing ideas. U.S. Tour of Duty is an opportunity for veterans to get assistance, tell their stories, develop content creation skills, and partner with their fellow veterans as well as nonveterans on community development, creative projects and business ventures. Podcast guests will include traditional and nontraditional veterans service providers who can offer assistance and raise awareness of the huge potential for collaboration at libraries. Advice will be offered by experts in such fields as VA benefits, legal issues, wellness and entrepreneurialism. Enrollees will be taught basic podcasting skills, and be given the opportunity to acquire real world experience by creating content for U.S. Tour of Duty. Those who aren't interested in production or hosting can still participate in the frequently-cathartic storytelling component.
U.S. Tour of Duty will operate mostly online at first and later in person in accordance with health and safety regulations. The initial focus is on Southern California participants. Statewide and then nationwide expansion will follow.